Weddings
Tecumseh and Sif: 17th March 1998 in the Xantheus (then known as Darkhaven) Cathedral. 19 people attended. This was the first public wedding of adventurers since the Codex was abandoned.
Balroth and Kaitlynn: 12th of April 1998, in the Gardens of the Nightshade Order Headquarters. 11 players were present. The two were leaders of the Nightshade Order at the time.
DarkReaper and Alisa: 5th of September 1998, in the Wolf Forest Clearing. 9 players participated. Unfortunately one of these was Balroth the Slayer of Undead, who noted with professional interest that Alisa was a Vampire. Discordant notes rang throughout the World.
Daoushiinan and Summer: 6pm on the 18th of August, 1998, the day before the Dark Times befell the land. Slab, with assitance from Uecef, performed the ceremony in the Golden Clearing by the Manilla Mountains to a congregation of about 14. Daoushiinan used to be an immortal and a builder, and Summer was a member of Nightshade and the Clan Council. Summer was killed while on a hunt and Daoushiinan gave up his immortality and life to give hers back. Summer now haunts the abandoned halls of Nightshade, seldom speaking to anyone.
Firestorm and Maise: 6th of February 1999, at 4pm, in the Golden Clearing by the Manilla Mountains, with 20 people present. There was a rather enjoyable reception in the Xantheus Inn afterwards. Firestorm left on a long journey to unknown lands for unknown reasons a few years (ic time of course) later. By the time he returned his wife had long since given up on his return and he had changed so much on his long hard journey that the two divorced.
Graucsh and Erilyn: Derg presided over the small, impromptu midsummer ceremony. Erilyn disappeared a few months later. When she returned the two divorced, as their time apart changed both too much.
Slart and Arctic: 11th of August 1999, in the golden clearing of the Manilla Mountains was the location of the ceremony, performed by Derg.
Mithrandir and Perna: Sunday the 26th of September 1999, in the Cathedral, by Maya. Shadows/Maya performed the wedding and a congregation of twenty witnessed it. Perna's adopted brother, Graucsh, gave her away.
Alucard and Thoth: 11th of February 2000, in the Unholy Chapel. The ceremony was performed by Wulfgar, with fourteen people present.
The following couples were wed during their time in the land. We are still gathering information on when, where, and by whom and will update them as we learn more. If any couples are missing from this page, please let us know.
Magyana and Sephiroth:
Drak and Jericho:
Contradox and Kalypso:
Revelation and Mayln:
Contradox and Flame:
Alucard and Flame:
Devian and Blaze:
Nameless and Brayne:
Wulfgar and Maise:
Indigo and Reality:
Norik and Reality:
Matri and Anaza:
Indigo and Ailis:

Some people get so into it, they get married in real life -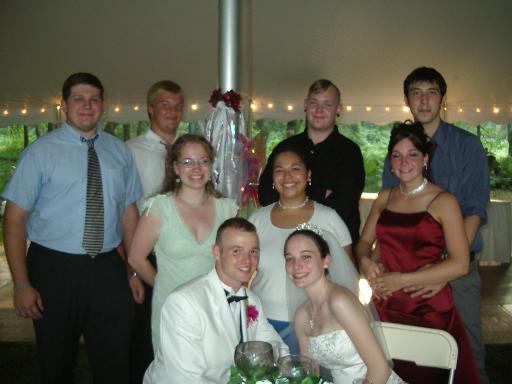 Left to right, Top to bottom:
Unther, Maxen, Fragma, Nameless
Avianna, Kalypso, Thulla
Solitude, Lexi